The project
Expanding from Lombok to the region
The Utrecht district Lombok is internationally known as thé Smart Solar Charging pilot area. The experiences in Lombok will be developed further and tested over the next four years in five linked pilot areas in the Utrecht region. Each pilot area has its own user profile, type of customer and specific market. All areas combine the production of renewable energy with Vehicle2Grid-charging points and car sharing systems.
The illustration below shows the power demand. The black line indicates the power demand for regular charging, the green/yellow line indicates the power demand when smart charging.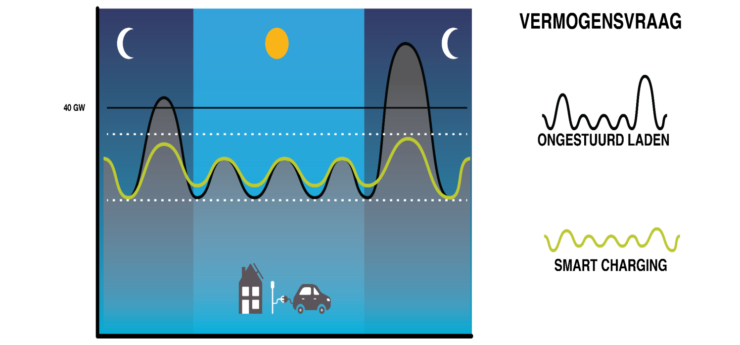 This will result in:
marketable product-service combinations for various types of districts / areas;
new economic activity in the Utrecht region ;
a contribution to environmental sustainability, low carbon economy and social sustainability.
Predecessor: Smart Grid: profit for all
The Smart Solar Charging project builds on experiences and results from the project 'Smart Grid: profit for all' (2012-2014). This project developed and tested a series of new, scaleable and user-driven services related to power grids of the future. The tests took place in two medium-sized smart grids of one hundred households each, located in Amersfoort and Utrecht, the Netherlands. By working in existing neighborhoods, with intensive community participation, we were able to co-create services that people will actually benefit from. For more information and project results please visit: www.smartgridrendement.nl (in Dutch).