News
PRESS RELEASE – Utrecht Science Park first campus with large bidirectional charging network
Living lab brings together innovative research and entrepreneurship
Utrecht – With thirty-two brand new Smart Solar Charging vehicle charging points, the Utrecht Science Park is the world's first campus that features bidirectional charging according to the new open ISO 15118 standard. This charging system can both charge and discharge electric cars, thus enabling them to actively participate in smart energy networks. The official launch took place on October 16th, 2019 in the Utrecht Science Park.
---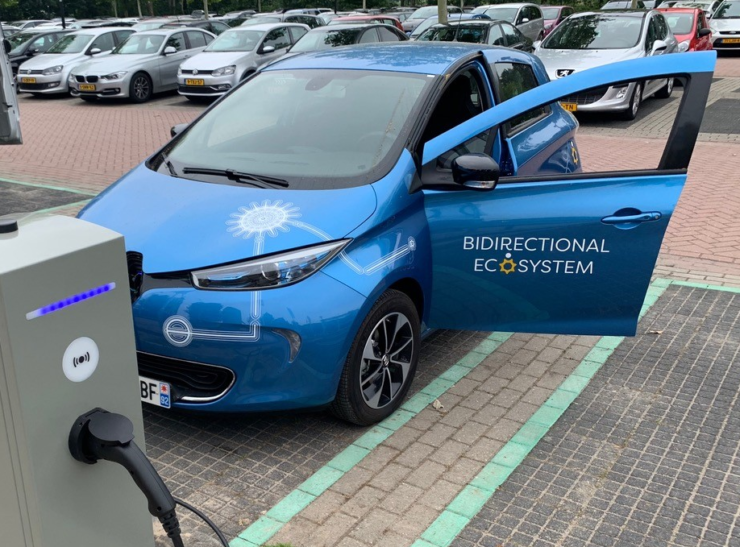 ---
Utrecht Science Park as a living lab
With the new bidirectional charging points, the Utrecht Science Park is ready to further develop the Smart Solar Charging sustainable energy system. On the park, these innovative charging points will be combined with 8.000 solar panels and six We Drive Solar shared cars of HU University of Applied Sciences Utrecht (HU), of which Utrecht University (UU) will also offer a shared car to their employees for work-related travels.
In this living lab, entrepreneurs and researchers of the HU and the UU will optimize the integral system with respect to energy performance, user behavior and value models.
Front runner Utrecht
The Utrecht Science Park is a unique living lab because it combines education, living, working and health care. It is one of six Smart Solar Charging living labs in the Utrecht region. On March 21st of this year, King of the Netherlands Willem-Alexander launched this sustainable energy and mobility system in the living lab in the residential area of Lombok in Utrecht. Furthermore, the Triodos Bank in nearby Zeist is currently building the world's largest bidirectional charging plaza, and this year the municipality of Utrecht is developing a city-wide bidirectional charging network with 145 SSC charging points on public roads. These milestones help Utrecht to become the first region that balances her energy demands with bidirectional charging technology.
Bidirectional system
The bidirectional Smart Solar Charging stations not only enable charging, but also discharging of electric vehicles. This way solar energy stored in car batteries during the day can be used by night for powering buildings. Renewably generated energy is therefore maximally used: the dynamic charging infrastructure efficiently handles sustainable solar and wind energy and optimizes charging costs for all involved parties. Renault Groupe is committed to further this new technology as the ISO 15118 standard has already been applied and car batteries have been adapted to bidirectional charging. Since the technique can be implemented on a large scale, other car manufacturers can also quickly adopt bidirectional charging.
Smart Solar Charging
The living lab at the Utrecht Science Park is a result of the collaboration between Utrecht University, HU University of Applied Sciences Utrecht and the companies LomboXnet, We Drive Solar, Smart Solar Charging, Stedin, Last Mile Solutions, The People Group, Jedlix, NewSolar and Siers, led by the Utrecht Sustainability Institute. The development and upscaling of bidirectional charging was made possible thanks to the support of ElaadNL and Renault Groupe.
The Smart Solar Charging project is supported by the European Fund for Regional Development (EFRO) Kansen voor West II, which focuses on strengthening the regional competitiveness and increasing employment opportunities.